WHAT IS PSYCHOLOGICAL SAFETY?
Psychological safety is broadly defined as a belief in which people are comfortable expressing and being themselves. At the workplace, this entails people feeling comfortable sharing concerns and mistakes without fear of embarrassment or retribution. They can speak up by engaging in conversations or asking questions, knowing that they will not be humiliated, ignored, or blamed for taking these actions.
Moreover, it is important to know that psychological safety is a team-level construct which means that the team, rather than individual team members, is the subject of analysis. In other words, psychological safety describes how the team feels about expressing ideas, concerns, questions and mistakes. It is not experienced at the organisational nor at individual level. Consequently, different teams in the same organisation are likely to have different levels of psychological safety.
WHY IS PSYCHOLOGICAL SAFETY IMPORTANT?
Research shows clearly the importance of psychological safety for team performance. Arguably, the most well-known research over the last years is Project Aristotle developed by Google. Project Aristotle was carried out over a period of two years and it included more than 200 interviews examining more than 250 attributes of more than 180 Google teams.
Project Aristotle found out that psychological safety was by far the most important factor explaining superior team performance. They concluded that regardless the level of competence in the team, it needed psychological safety to perform at its best. 
WHERE CAN I LEARN MORE ABOUT PSYCHOLOGICAL SAFETY?
There are a wide variety of sources to learn more about psychological safety. Below we cite some of our favourites.
Academic Articles
 Online articles / Publications
 Books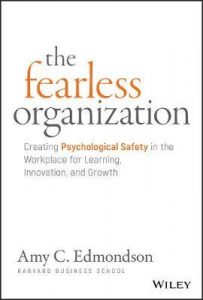 Podcasts and videos
HOW IS PSYCHOLOGICAL SAFETY MEASURED IN TEAMSCAN?
The psychological safety measure used in TeamScan is based on the extensive research by Amy C. Edmondson. This measure consists of seven statements describing different team behaviours such as appreciation, mutual support, reaction to mistakes, and asking for help.
If you make a mistake on this team, it is often held against you.

Members of this team are able to bring up problems and tough issues.

People on this team sometimes reject others for being different.

It is safe to take a risk on this team.

It is difficult to ask other members of this team for help.

No one on this team would deliberately act in a way that undermines my efforts.

Working with members of this team, my unique skills and talents are valued and utilized.
HOW IS PSYCHOLOGICAL SAFETY CALCULATED IN TEAMSCAN?
In TeamScan, psychological safety is calculated by combining the individual answers of all the team members. Once these individual answers are combined, team-level scores are calculated.
HOW CAN I START FOSTERING PSYCHOLOGICAL SAFETY IN MY TEAM?
Factors contributing to psychological safety in your team are leadership behaviours, the quality of relationships, and organisational culture. These factors are found in the TEDx Talk by Amy Edmondson. Here, she offers three simple things team members can do to foster psychological safety, these are:
Frame the work as a learning experience, not an execution problem. In difficult situations, encourage people to talk more about learning, voicing of opinions, problems, and tough issues.

When you make a mistake, talk about it to encourage learning. Allow mistakes and speak openly about them to see them as learning opportunities.

Ask questions to invite engagement and participation from everyone.
Watch the video to have a better understanding and a deeper appreciation of how to foster psychological safety in your team.