The TalentMiles web app is a mobile-friendly solution for driving, supporting and measuring action. All TalentMiles Solutions are facilitated by the TalentMiles App, making them scalable for groups of even thousands of participants.
What it is NOT is a learning management system. As opposed to traditional LMS-platforms, the TalentMiles App does not limit people to online learning, or being the passive receiver of information. Instead, we increase the amount of face to face learning in your organisation, by extending it beyond the few days of on-site workshops. The TalentMiles App brings people together, creates dialogue and supports active co-creation within the team, across silos and into the larger professional network of your organisation.
The TalentMiles web app makes learning easily accessible anytime and anywhere. The web app utilises the principles of gamification to engage and motivate participants to achieve their learning goals. It also tracks each participant's progress, making action and activity visible and easily measurable.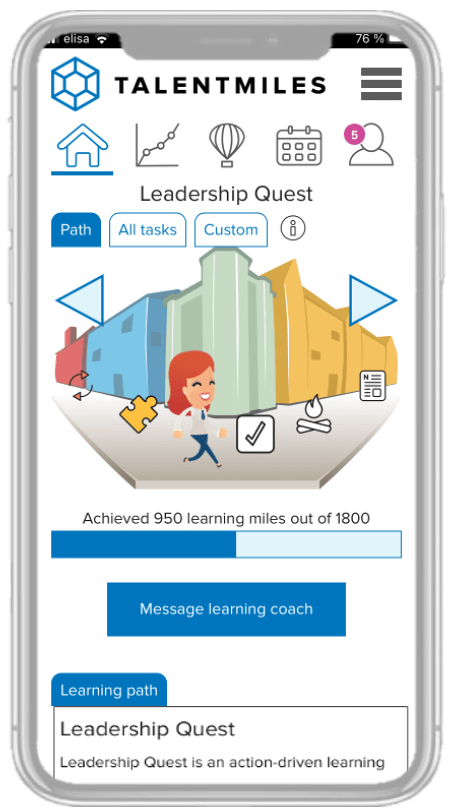 "The app is really nice, simple and easy to use. The tasks and directions are clear. The support and advice from Erika has been excellent."

Vincent Celsi, Metso

"I think that the TalentMiles web app is one of the best apps that I have used for this type of collaboration. I can tell that there's been a lot of work put in over the years to continuously improve the app along the way."
Christian Diaz, Metso

"It is the best learning web app I have used. We learned by reading article, watch videos, record the videos , have meetings and cooperate with colleagues to find the proposal and solution."
Yaojun Zhang, Metso
All tasks and resources available on demand
A fully responsive web app – no download required. Works on mobile and desktop
Connects you with an online peer group and your team and network in your day to day life
Nudges you to stick to your deadlines with timely reminders and notifications
Gamified tracking function for friendly competition with colleagues
Enables you to involve everybody in the process
Makes progress visible and measurable
Drives action in the organisation through increased activity and communication